North Carolina Museum of Natural Sciences, Part I
January 21, 2008
I just returned from the Science Blogging conference in North Carolina. The day before the conference, several tours were set up. I went to the Museum of Natural Sciences tour which was led by the Exhibit Director, Roy Campbell.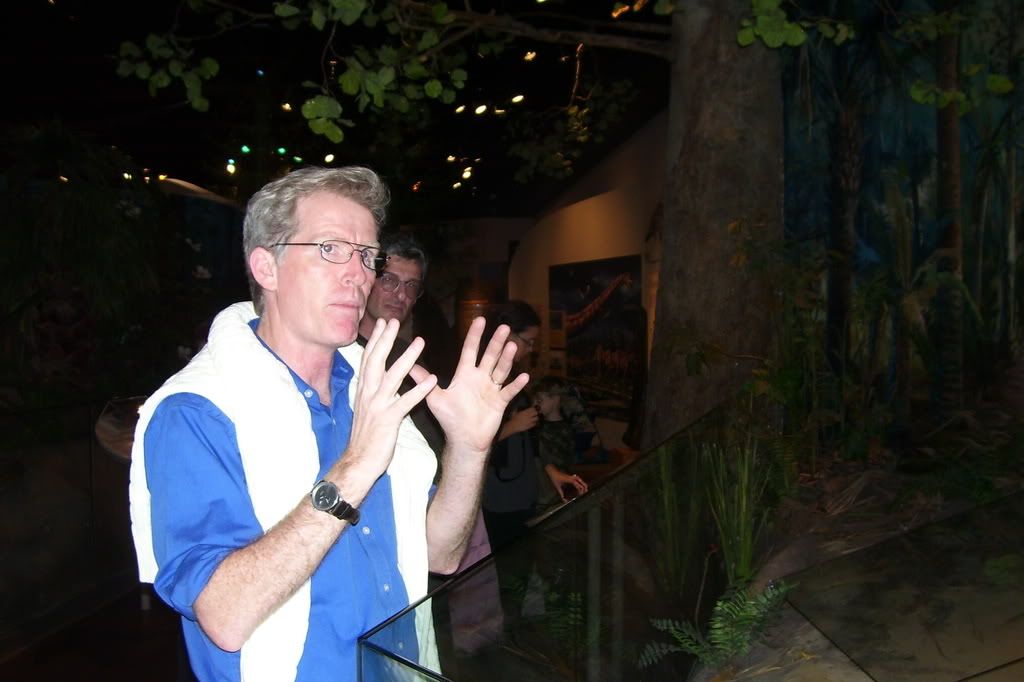 I'm not sure it's possible to have a more enthusiastic guide. He really, truly, and deeply loves this museum, loves the exhibits and the work that is going on there and brought everything to life in a way that I imagine few people could. I think that last time I heard someone speak so enthusiastically about a topic, that person was telling me about playing Guitar Hero on their new Wii.
One of the highlights, at least for me, was actually getting to peek at some of the behind-the-scenes work and the collections.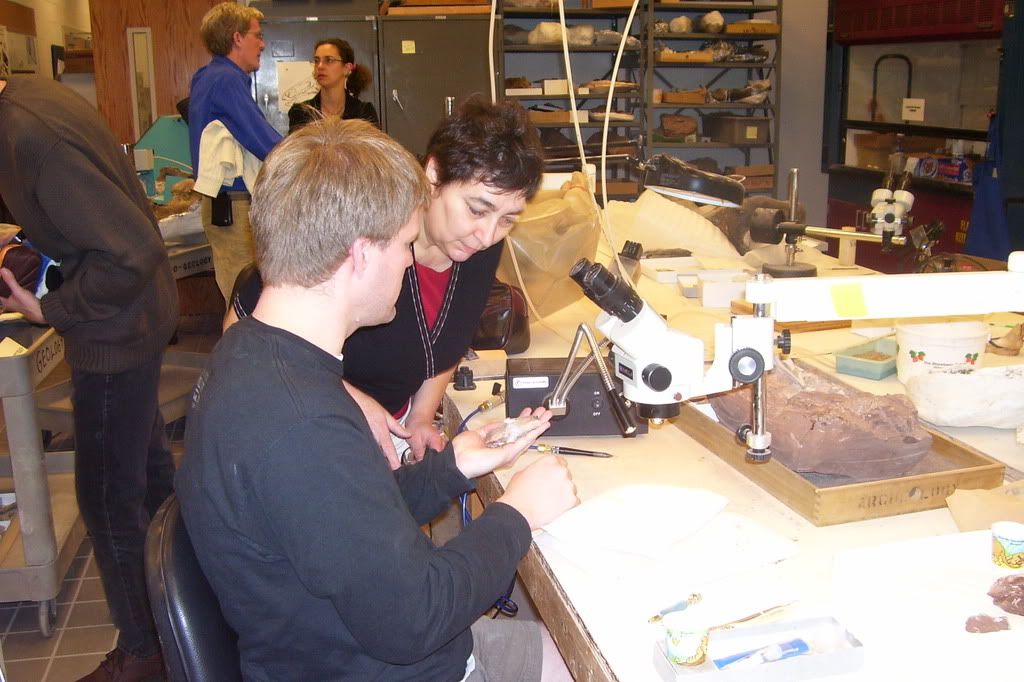 When fossils come back from wherever they were dug up, a lot of the time they are encased in sediment and rock (sometimes some much so that to the inexperienced eye, you might not even realize there is something important there!). There's only so much you can do when you are at the site of an archeological dig. So, the museum needs a place where the fossils can be carefully cleaned, and at least some of that goes on in this room. In this room, fossils are meticulously cleaned and prepared (note the microscope in the picture which can be used when cleaning very small pieces). Scattered everywhere are fossils–variously colored, large and small–of animals and plants, some of which are perfectly cleaned and some partially cleaned and waiting for more cleaning and some that seemingly haven't been touched yet.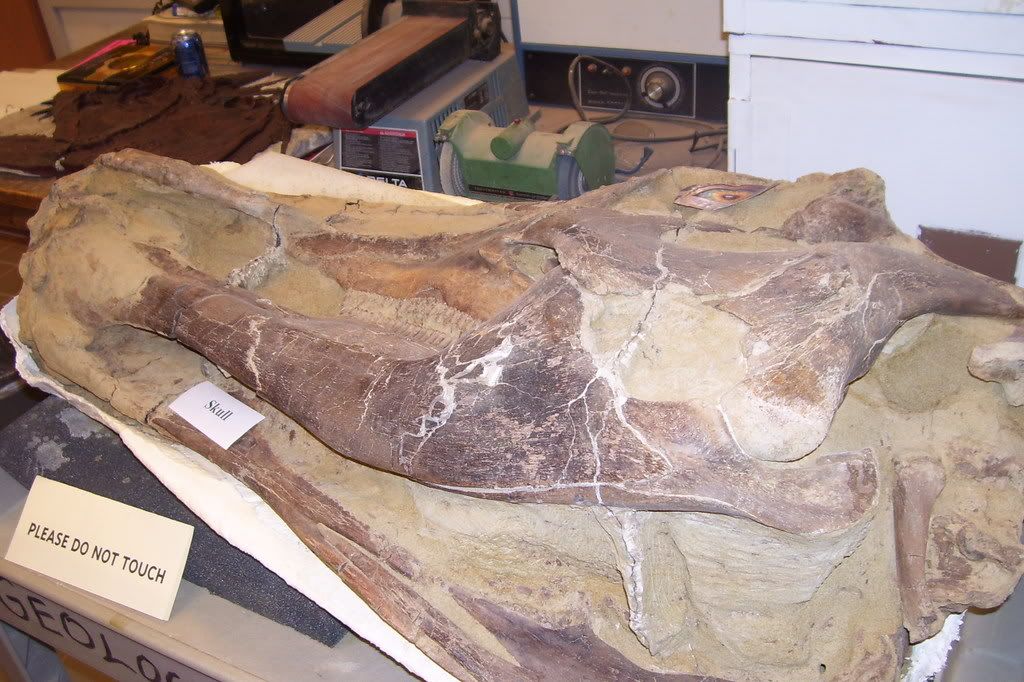 Here is a fossil of an incredibly large animal whose taxonomy I don't remember (to be honest, I felt a little out of my depth here, being a cell biologist who didn't know her Triassic from her Jurassic–everyone else in the tour had much more knowledge of what I like to call macrobiology). Although you probably can't tell, this fossil still has sediment on it. You can also see its teeth, including an injury in its mouth. Perhaps in another post I will show you an enlarged version of the photo.
After the fossil prep room, we moved into the collection area. When people hear of museum collections, they often think of it as mere storage. A large warehouse type area where they keep all of the things that they own that don't fit into the exhibit space. And, indeed, when you go in, you might have the impression that you have walked into the attic of an obsessively organized packrat naturalist.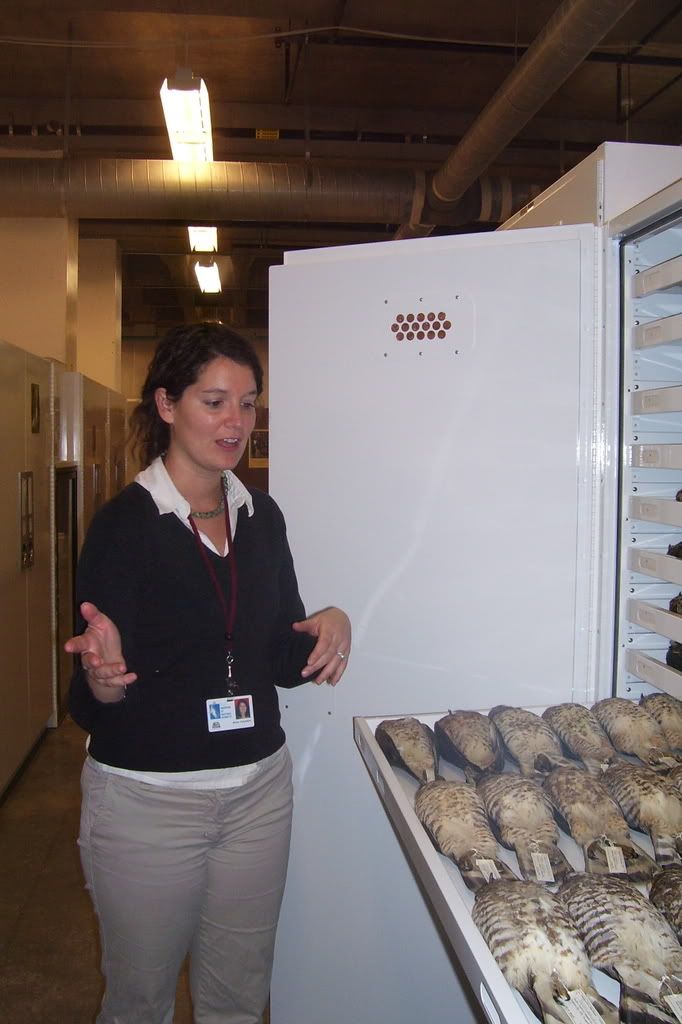 The area is full of large, labeled cabinets and shelves with enormous bones on them. It is a place where they truly do have skeletons in the closet! However, a museum collection is NOT storage. It is more accurately called a library. There is a wealth of information locked up in those cabinets and researchers come from all over to study the things found in the collection. While I was there, in addition to the wonderful people who help curate the collection, I met a student who was taking bone samples in order to analyze DNA from coyote and wolf skeletons (they have a special way of doing it in order to minimize the damage to the skeleton) to determine if the animals ever interbred and if so how far back was the first occurrence among the samples in the collection.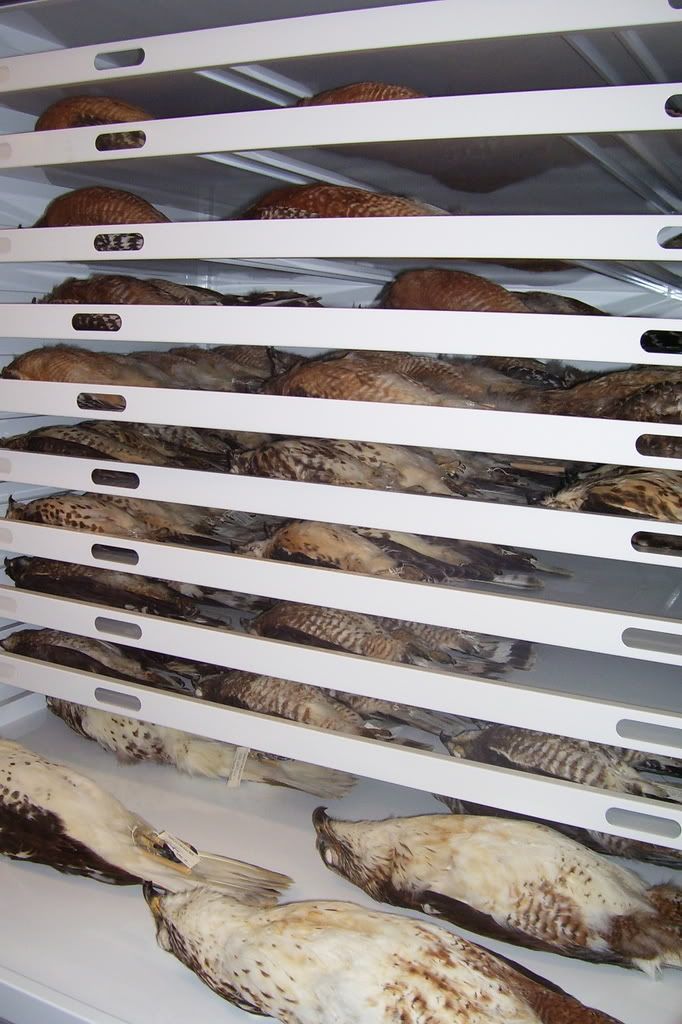 The cabinet of birds of prey that I am showing in these pictures could be invaluable to a researcher who wants to study some effect on the bird population at a certain period in time. The (taxidermied) birds were all tagged and if there were other samples associated with them (organs or whatever) that was indicated on the tag. Much of the museum's collection of local wildlife comes to them from the average person who finds a dead animal in their yard or by the road and brings it to the museum. When that happens, the people who curate the collections record the information about the animal and preserve the animal. The same sort of thing happens at many natural history museums (for instance, I know the Field Museum collects dead squirrels given to them by average citizens and all collects all of the birds whose lives are cut short by an unfortunately collision with McCormick Place).
Large specimens can't fit into cabinets and those are seen on shelves or sometimes just piled in the middle of the floor.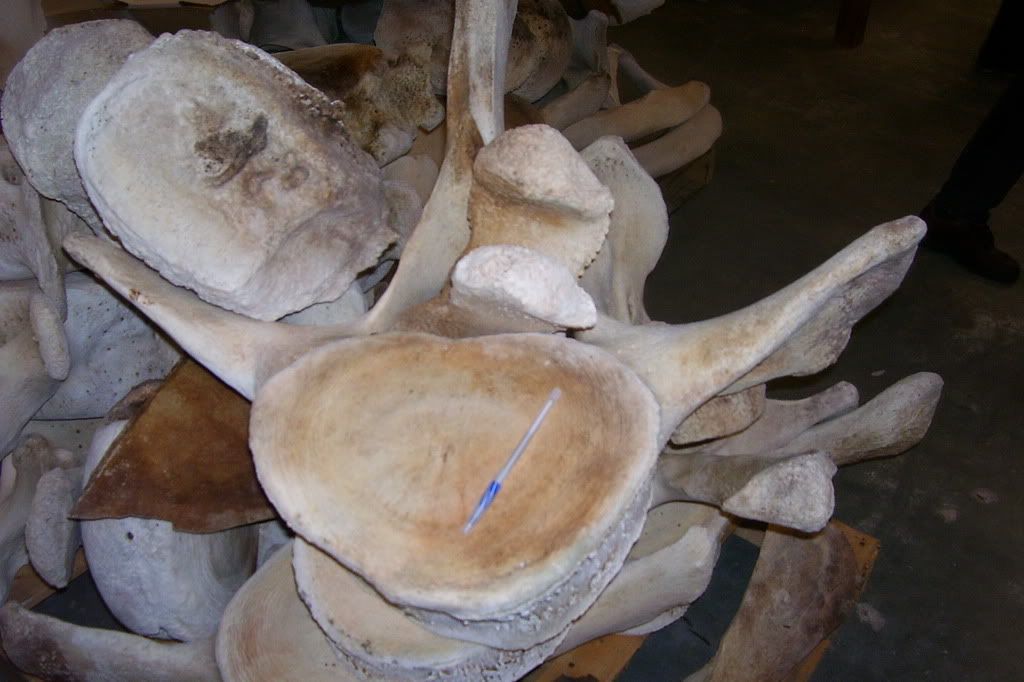 Here is a pile of bones from a whole whale that washed up on a North Carolina beach. Specifically, you are looking at the vertebrae of the whale. I put a pen on it so you can get some idea of scale. That is just one vertebra from the skeleton! Take a moment to ponder how long and how messy it was to dismantle an animal of that size and bring it back to the museum.*
There was so much more, but that will have to wait for another post!
———————————
*[Warning: Don't read this part while eating!] If you are wondering how they get the bones so, um, clean, the answer is bugs. Think about that for a moment…. Aren't you glad you asked?
2 comments